Coptis is a leading provider of performance software solutions for Cosmetic R&D Laboratories, based in Europe, US and Singapore
Coptis Software Solutions has more than 20 years of experience with exclusive focus on the Cosmetic Industry.
Coptis provides innovative technology solutions to optimize performance and reduce time-to-market for the cosmetic industry; ranging from formulation and application laboratories, cosmetic manufacturers, development subcontractors, toxicology and testing companies, universities, consultants and quality control.
More than 2,500 users from Cosmetic Companies worldwide are equipped with this unique software solution.
Major products
Coptis LAB, is the company's flagship product, an integrated system for formulation development and regulatory affairs and packaging. It includes the various stages of the development of a cosmetic formula, from the marketing brief to the regulatory file.
Coptis Lab, allows the cosmetic industry to manage simultaneously packaging data along with all data required in the development of a formula, such as raw materials, regulatory, tests data, etc.
Main functions of Coptis Lab:
Optimize Raw Materials Data and Packaging components Management
Accelerate Product Development
Maximize the reliability of Global Regulatory Compliance
Regulatory analyses on formulas in real time
Creation of the Product Information File (PIF)
Manage Tests and Automate schedules
Create Bill of Materials (BOM)
Inventory management of you raw materials.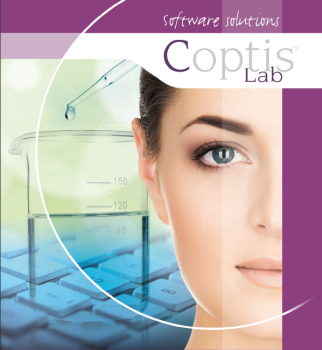 Coptis Lab offers access to Coptis TOX: the toxicology information database on 2,000 substances.
Coptis Ingredients a comprehensive database developed through partnerships with cosmetic suppliers database. Its powerful search engine can quickly access detailed information and technical documents of more than 15,000 cosmetic raw materials.
Mission
The Coptis team is dedicated to the continuous evolution of our products which is optimized by our cosmetic expertise, Users Club and clients' recommendations.
Our goal is to ensure that all our users benefit from all new updates. This is why the Coptis solutions have become the standard in the cosmetic Industry.
"With the Coptis Lab software, we guarantee our customers Laboratory efficiency, improved performance while ensuring regulatory compliance and market requirements to speed up product launch with utmost reliability of information. Our success is the result of diligence in designing the appropriate software for the Cosmetic R&D Laboratory."
COPTIS Software Solutions: 20 solid years of optimizing cosmetic R&D laboratories worldwide.
View the Coptis video
Request a demo and learn how the Coptis solutions can improve productivity and speed-to-market in your laboratory!